Cutie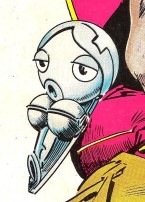 Base of operations
Sam's belt
Characteristics
Unusual features
She's a robot
Status
Origin
History
Cutie is a character from the 2000 AD strip Robo-Hunter. She was a robo-meter, a robotic scanning device in a vaguely female form which Robo-Hunter Sam C Slade usually carried on his belt. Cutie assisted Sam for some time until her apparent 'death' on the robot world of Verdus.
Years later, Cutie supposedly returned and, having gained a fully mobile humanoid form, tricked Sam into trusting and even loving her before attempting to kill him for abandoning her. (That makes perfect sense: punish a man for abandoning you by ensuring that he leaves you permanently.) However, this story was set during Mark Millar's rebooted Robo-Hunter series, so it's probably best ignored.

Powers and abilities
Powers
Is "always right" (see quotes).
Abilities
Scanning device with various capabilities, probably mostly undocumented.
Strength level
Negligible.
Weaknesses
In her original form, Cutie was pretty much immobile.

Paraphernalia
Equipment
Cutie
is
equipment.
Transportation
Carried around by Sam.
Links
Discover and Discuss
Community content is available under
CC-BY-SA
unless otherwise noted.