Lizard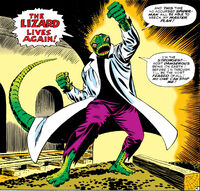 Relatives
Martha Connors (wife), Billy Connors (son)
Characteristics
Status
Origin
History
After losing his arm in battle, biochemist Curt Connors drank a serum he'd made to grow it back. Unfortunately, he became the Lizard instead! While a friend of Spidey's in human form, the Lizard would hunt him down! But, the Lizard is always changing from good and bad, so is dangerous and unpredictable. Recently, in the Clone Conspiracy event, the Jackal (Ben Reilly) brought back his deceased wife and child. During the final battle, he escaped in the shadows with his family, and left everyone else fighting. He has since turned up working at Empire State University.

Powers and abilities
Strength level
Yes, don't we all have some?
Weaknesses
Sometimes gets greedy. Sometimes goes mental.

Notes
Despite being an American creation, the Lizard has been drawn by British artists and used in British comic books.
Links
Discover and Discuss
Community content is available under
CC-BY-SA
unless otherwise noted.