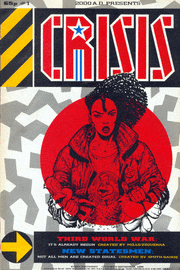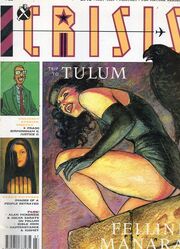 Crisis was an originally bi-weekly comic titled published by Fleetway from September 17th 1987 to October 1991, transitioning into a monthly magazine with issue #50. Launched by Steve MacManus, at one point it was edited by Peter Hogan. Crisis was aimed at adults rather than children and had a strong social conscience with something of a left-wing bias. It featured strips such as Pat Mills and Carlos Ezquerra's Third World War (also illustrated by John Hicklenton); John Smith and Jim Baikie's New Statesmen; Myra Hancock and David Hine's Sticky Fingers; and later Garth Ennis's Troubled Souls and its sequel, For a Few Troubles More. Ennis also wrote True Faith, illustrated by Warren Pleece.
Later issues branched out in a less overtly political direction as the magazine attempted to find more of an audience, with strips including the bizarre The New Adventures of Hitler by Grant Morrison and Steve Yeowell, and erotic fantasies from Milo Manara. With issue #55, Crisis absorbed the company's other adult-orientated title, the short-lived Revolver, and took on board that title's unfinished Dan Dare strip, also by Morrison (with artist Rian Hughes). Crisis was cancelled after 63 issues, though the lead character from Third World War would later be revived in the series Finn in 2000 AD.
See Crisis Vol 1 for individual issues.
Community content is available under
CC-BY-SA
unless otherwise noted.