Crazy Chryssie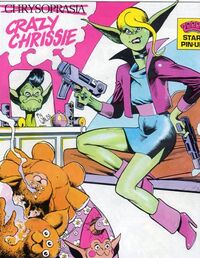 Current alias
Crazy Chryssie
Characteristics
Status
Origin
History
D.R. and Quinch first encountered Chrysoprasia in 'D.R. & Quinch Go Girl Crazy!' (2000 AD progs 352 to 354). The angelic Chrysoprasia (Chirpy to her friends) was a nauseatingly sweet girl who was the daughter of Waldo 'D.R.' Dobbs' college drama coach. She liked nothing better than dancing the froggy-hop, doing embroidery and giving money to the poor. D.R fell for her in a big way, which threatened to end the partnership of D.R. and Quinch, until Quinch showed her movie footage of their past exploits to show her what a scumbag D.R actually was in the hope that this would frighten her off. Unfortunately, it had the opposite effect: Chryoprasia was mortified that D.R must think her a wimp, and reinvented herself as the homicidal Crazy Chryssie in order to be 'worthy' of him.
D.R, horrified at her change of persona, promptly turned Chryssie in to the police for numerous crimes in order to get Quinch off the hook for them. Chryssie was jailed, but became a mercenary and returned to further complicate D.R's life when he and Quinch joined the army (see 'D.R. & Quinch Get Drafted', 2000 AD progs 355 to 359). Caught between two opposing armies, the situation looked bleak for Chryssie and her friends until Quinch's gigantic mother turned up to rescue them and they all flew away in her spaceship drinking tea and eating scones. Which was nice.

Powers and abilities
Strength level
Moderate.
Weaknesses
Madder than a box of frogs.

Paraphernalia
Weapons
Big gun.

Notes
D.R. and Quinch were once prosecuted for "transmuting base metal into gold." With the green-skinned Chrysoprasia (whose name comes from the Greek for 'golden leek'), they may be said to have effected the opposite transformation.
Links
Discover and Discuss
Community content is available under
CC-BY-SA
unless otherwise noted.