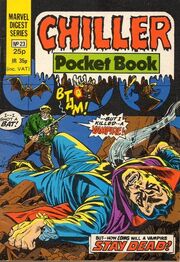 Chiller was one of the line of
Pocket Books
published by
Marvel UK
between March 1980 and July 1982. Like the others in the line (including
Star Heroes
,
Young Romance
,
The Titans
,
Hulk
,
Marvel Classics Comics
and
Conan
) it was a 52 page digest (counting the covers) and contained black & white reprints of American Marvel comics titles, the most regular features being
Dracula
(from 'Tomb of Dracula' by Marv Wolfman and Gene Colan) and the Man-Thing (by Steve Gerber), although other characters did appear, including 'Satana the Devil's Daughter' (in issue #1) and The Ghost Rider (issues #2-6). Dracula appeared in almost every issue, though he was crowded out by the Man Thing on occasion, as in the double sized issue #9. Issue #20 was also double sized, at 100 pages. Chiller was probably one of the most popular of the Pocket Book line, but was nevertheless cancelled with issue #28 along with the rest of the digest books, and unlike stablemates
Spider-Man
and the
Fantastic Four
, Dracula and the Man-Thing did not continue in other reprint titles.