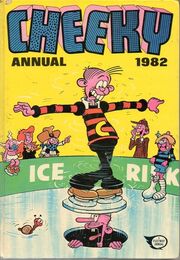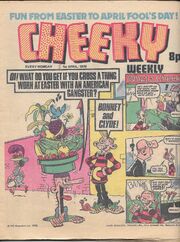 Cheeky Weekly was launched by IPC Magazines on October 22nd 1977. The title character, Cheeky (drawn by Frank McDiarmid, who actually drew much of the comic), was an established IPC character who had previously been a member of the Krazy Gang in Krazy Comic. Cheeky Weekly had an unusual format; instead of simply random, disconnected one or two page strips, each issue had a kind of narrative thread running through it, with Cheeky meeting and swapping appalling puns with various unlikely recurring characters such as the incontinent Walter Wurx, pneumatic lollipop lady Lily Pop, Cheeky's would-be girlfriend Louise, Baker's Boy, Doodle Doug, the Manhole Man (Oi!), the accident prone Bump Bump Bernie, Baby Burpo, Gunga Jim, Auntie Daisy the School Meals Lady, the monstrous Ursula, Jogging Jeremy and Posh Claude as we followed his day (and that of his pet snail!), interspersed with other strips which Cheeky would introduce (such as Elephant on the Run). It was all frequently a bit surreal (particularly when the Knock Knock Door, a mobile, talking door, showed up) and the humour often rather more edgy and/or lavatorial than in IPC's other titles, with the standalone strips such as Mustapha Mi££ion (about a rich Arab kid living in Britain), 6 Million Dollar Gran (about a bionic granny), Stage School, Calculator Kid, Paddywack, and obligatory adventure strip James Bold a sharp stylistic contrast to the ongoing narrative. Several characters, like the turban wearing Indian Gunga Jim, the jive talking, afro wearing Disco Kid, Mustapha Mi££ion and the leek obsessed Welsh kid Taff the Laff, would nowadays undoubtedly be seen as unacceptable racial or national stereotypes. Cheeky Weekly lasted 117 issues to February 2nd 1980, when it was merged with Whoopee!, and there were also Cheeky Summer Specials in 1978, 1979, 1981 and 1982 and a Cheeky Holiday Special in 1980. Cheeky Annuals were published every year from 1979 to 1985.
Community content is available under
CC-BY-SA
unless otherwise noted.