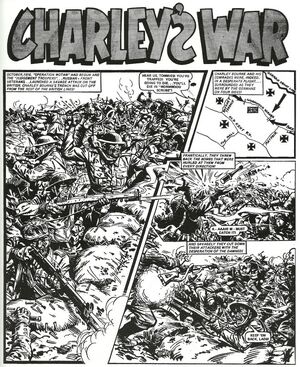 Charley's War, possibly the best war story ever told in comics form (though its writer, Pat Mills, insists it's really an anti-war story) ran in IPC's Battle Picture Weekly from 6th January 1979 to 4th October 1985. Drawn throughout by Joe Colquhoun (who put a quite frightening level of heavily researched detail into every installment), it told the story of Charley Bourne, who enlisted in the British Army while still underage in order to fight for King and country in the Great War (Charley lies about his age to get in, and the recruiting officer conveniently overlooks the fact that he has put his birthdate down as 1900 on the application form). Thrown in at the deep end on the Battle of the Somme, Charley's romanticised view of war is quickly challenged by the brutal and demoralising reality, and through his eyes we see the full horror of one of the most unpleasant periods in human history.
The strip chronicled Charley's life up until the end of the War and into the invasion of Russia in 1919, but Mills quit at this point due to a dispute with IPC (apparently, he had intended to endy the story in 1933, with Charley back home and on the dole as Hitler is made Chancellor of Germany). Mills was replaced as writer by Scott Goodall and the action moved to World War II, the strip being somewhat watered down into a more conventional war story.
However, due to Joe Colquhoun's ill health, the strip ended shortly afterwards with Charley and his son being evacuated from Dunkirk, and Charley realising he was too old to keep fighting (it seems there was never any question of continuing it with a different artist). The series ended with Charley reminiscing about his early life, which led into reprints of the original strip until Battle finally folded. It was later partially reprinted in Eagle, and Titan Books and other publishers have since released several hardback collected editions.
Community content is available under
CC-BY-SA
unless otherwise noted.