Cast-Iron Bill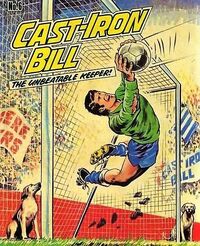 Current alias
Cast-Iron Bill
Base of operations
Barrowmere
Characteristics
Status
Origin
Place of birth
Normal human birth
History
Bill Steele, fourth division Barrowmere's goalkeeper, was (allegedly) the toughest man in football, earning him the nickname 'Cast-Iron Bill'. Because his name sounded like 'Steel'. It's a joke, you see. Anyway, despite being one of British football's greatest and most underappreciated talents, Bill's true passion was hound trailing with his two hounds Lora and Rikki, who were allegedly the finest trailhounds in England (no, I didn't know what hound trailing was until I came across Bill either, but it's apparently now a national sport). When he wasn't trailing his hounds, or having his hounds trail, or whatever it is trailhounds do, or playing football often in ridiculous conditions (Barrowmere once played a match in thick fog guided by Bill's dogs, which I'm sure breaches some FA regulation or other) Bill was being generally heroic, fighting crime, saving injured hill walkers or otherwise just proving that square-jawed blokes from Cumbria are the most stalwart lads in the world. Of course.

Powers and abilities
Abilities
Preventing the opposition from scoring.
Strength level
Normal human strength of a stalwart lad from Cumbria who spends most of his time out in the healthy English fresh air being incredibly fit and manly.

Paraphernalia
Equipment
Football boots.

Notes
Cast-Iron Bill is one of the same rather curious breed of too-good-to-be-true English sporting heroes in comics which also includes Alf Tupper.
Links
Discover and Discuss
Community content is available under
CC-BY-SA
unless otherwise noted.