Casey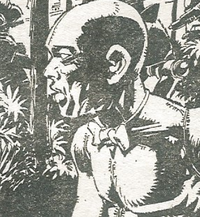 Characteristics
Unusual features
He's a robot
Status
Occupation
Medical testing robot
Origin
History
Casey is a character from the 2000 AD strip Ro-Busters and part of the Millsverse. He was an involuntary medical testing robot who was partnered with the insane Dr. Feeleygood in Ro-Busters, the disaster response squad run by Howard Quartz. When Quartz plotted to destroy the Ro-Busters and claim on the insurance, Casey and the doctor were amongst the robots who were warned by Miss Marilyn and managed to escape.
Because he looked very similar to a human, Casey was made to wear a suit and acted as their master when they were trying to find their liaison Gottlieb. After they found him, Casey decided to leave the others, feeling that he could easily pass as a human. He decided to stay on Earth rather than flee to the free robot world of Saturn Six.

Powers and abilities
Abilities
Can be torn apart again and again and still function.

Paraphernalia
Equipment
Bow tie.
Transportation
The Preying Mantis.
Links
Discover and Discuss
Community content is available under
CC-BY-SA
unless otherwise noted.