Carla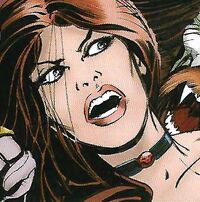 Base of operations
Wherever there are vampires
Characteristics
Status
Occupation
Trainee vampire hunter
Origin
Origin
Normal human birth
Place of birth
East European village
History
Carla is a supporting character from the Titan Comics series Captain Kronos Vampire Hunter. She was a 17th century gypsy wench arrested and placed in the stocks for dancing on the Sabbath. Understandably, when freed by the vampire hunters Captain Kronos and Professor Grost, she chose to join them in their crusade to eliminate the menace of the undead rather than remain where she was. People tend to underestimate her because she's a woman, which is frequently unfortunate for them. Professor Grost, her teacher in the art of vampire-killing, thinks that she may one day become a better vampire hunter than Kronos because she is more cunning and cautious.

Powers and abilities
Abilities
Armed combat; horse-riding; knowledge of natural substances that are inimical to vampires.
Strength level
Young human female who gets regular strenuous exercise (hunting vampires).
Weaknesses
She doesn't appear to have any.

Paraphernalia
Transportation
Horse.
Weapons
Crossbow; brass knuckles.

Notes
Carla was based on a character in an old Hammer Horror movie, Captain Kronos Vampire Hunter.
Links
Fan-Art Gallery: Carla (Captain Kronos)
Discover and Discuss