Carl Hunter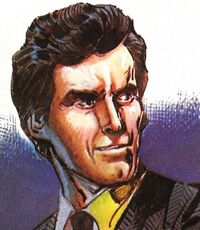 Characteristics
Status
Occupation
Private detective
Origin
Origin
Normal human birth
Place of birth
United States of America
First appearance
Last appearance
History
Carl Hunter is the main character in the Starlord strip Holocaust. He was a tough-talking, no-nonsense, down-to-earth former CIA agent turned private detective who accidentally stumbled into a war between humans and "extra-terrestrials systematically destroying this planet's food production." After investigating this covert war for some time at considerable personal risk, Hunter eventually discovered that the alien masterminds were telepathic rats who were afraid of fire and killed by concentrated nicotine smoke. This revelation unsurprisingly led to their swift and rather predictable defeat. Carl Hunter was last seen giving his ex-boss Colonel Minsky a kick up the bottom.

Powers and abilities
Abilities
Immune to alien mind control thanks to a metal plate in his skull; immune to alien 'poison sickness'; once shot down a UFO with a single bullet.
Strength level
Human male who gets regular exercise.
Weaknesses
Double cheeseburgers; nitrous oxide.

Paraphernalia
Transportation
Cars; military helicopter; aeroplane; flying saucer.
Weapons
Gun.

Notes
Hunter and his story have obvious parallels with Fox Mulder of cult TV series The X-Files. However, Starlord got there first with Holocaust, and only took nine weeks to tell a story which took The X-Files nine years more than a decade later.
Links
Discover and Discuss
Community content is available under
CC-BY-SA
unless otherwise noted.