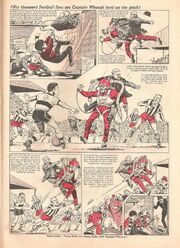 "Filled with thrilling hyper-drama and derring-do! Marvel at the outragous hi-tech crimes carried out by the incredible jetpack-man, and his dapper but devious passenger!"
These were the winning ingredients that contributed to this 1967 Dandy success, which ran in issues 1342-1359 (numbers dated August 12th to December 9th, 1967). Captain Whoosh is very much in the energetic vein of The Purple Cloud, and is indeed impeccably drawn by the same artist, Sixties stalwart Dandy artist Charlie Grigg. Though somewhat scaled-back in comparison to The Purple Cloud, it does however share the same sense of wonder as to how everyday mundane life can be turned upside-down by the arrival of determined deviants with unique technology.
The pilot of the archaic-looking-but-effective jetpack apparatus is sometimes referred in the text strip as the 'Rocket Man', and his sole role in the saga is simply to steer the advanced rocket-pack in and out of the scene of brazen crimes (often in broad daylight, much to the bewilderment of many on-lookers). The actual brains behind the outlandish crimes is the pilot's passenger: the well-heeled but deviant 'Smart Alec'. Reader identification is embodied in the shape of young Terry Ball, who witnesses and somehow thwarts the outrageous exploits of the airborne villains.
Captain Whoosh is a fine example of this type of 1960s serial mayhem, with the look and ambience of another 1960s Dandy gem along vaguely similar lines: The Umbrella Men, also by Charlie Grigg.
Special thanks to tireless UK comics enthusiast Peter Gray for sourcing these epic visuals.