Henric Lockwood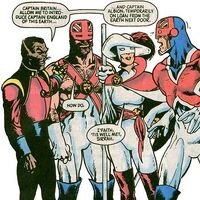 Real name
Henric Lockwood
Characteristics
Status
Origin
History
Captain England first encountered Captain Britain after he had been abducted by the Special Executive on behalf of Saturnyne. Captain England and Captain Albion had been selected as the guards for Saturnyne while she was awaiting trial for the mishap on Earth-238 involving Mad Jim Jaspers.
Later during the trial, Captain England and Captain Albion were forced to subdue Captain Britain on the orders of Lord Mandragon, Saturnyne's successor to the imperial throne, when he disrupted court proceedings. Captain Britain broke free of the ice block in which Captain England had encased him and rescued Saturnyne. Captain Britain, Saturnyne and the Special Executive then fled to Braddock Manor on Earth-616. Captain England and Captain Britain next met at the funeral of Merlyn, when they decided to put their previous differences behind them.
Sometime later Captain England attended the trial of Brian Braddock, who was accused of violating the Captain Britain Corps Code and breaking the leg of Nightcrawler (a German mutant and member of the X-Men). The trial was soon stopped when Saturnyne delivered a message from Roma asking that the trial end and Captain Britain be set free.
Captain England was seen attending the wedding of Brian Braddock and Meggan, which was held on Otherworld.

Powers and abilities
Powers
Presumably the same as Captain Britain. However, Captain England carries a quarterstaff which can zap people and encase them in a block of ice. It is unknown whether this power exists as a part of him and channels it through the staff or is a power inherent to the staff itself.
Strength level
While wearing his costume, Henric Lockwood's strength is increased to high superhuman levels.

Paraphernalia
Weapons
Quarterstaff which can zap people and encase them in a block of ice.
Links
Discover and Discuss
Community content is available under
CC-BY-SA
unless otherwise noted.