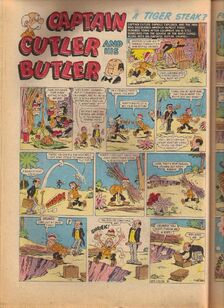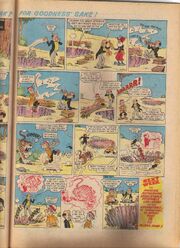 The search for the source of the River Bungo!
Captain Cutler and his Butler resided within Sparky comic from September 1972 until early 1973. With lush artwork executed with customary skill courtesy of Robert Nixon, this was Bob's second — and final — Sparky entry, the previous and only other character contributed by him being Esky Mo, which ran for a few months back in 1969.
Essentially a continued farce set against the backdrop of an African jungle scenario, the comedy centered around the refined but dopey Captain Cutler, leader of this expedition to find the source of the River Bungo, assisted by his wryly sardonic and cool-as-a-cucumber manservant Crumbs, who usually relied on wit and opportunity for the duo to escape from various jungle dangers. Crumbs often belittled his 'superior' with thinly-veiled insults, disguised by refined speech.
The pair encounter many exotic and dangerous sights, including big game and lost tribespeople. The overall tone of the strip was reassuringly silly and tongue-in-cheek.
The first incarnation of the strip appeared in a very early 1970s Sparky Book, in which the very similarly-themed artwork was entitled Oh, Crumbs! with artwork also by Nixon. This strip is remarkable for being (as far as is known) the only full-colour sets D.C. Thomson put out of Robert Nixon's work in the early period in which he was under their employ. He jumped ship to IPC early in 1973, so Captain Cutler was ironically among his final work for the company until 1985, when he returned to a dramatically changed 'funnies' market.
Community content is available under
CC-BY-SA
unless otherwise noted.