Candyfloss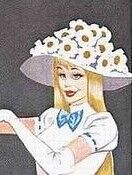 Base of operations
Switzerland
Characteristics
Status
Origin
History
Candyfloss, nicknamed 'Pusscake', was the 16 year old nymphomaniac girlfriend of the would-be world conqueror Wanda Von Kreesus, and her constant companion. Candyfloss primarily seemed to serve as a method of distracting Wanda's opponents, though Wanda did actually engineer her own millionaire father's death by getting the old lecher to chase Candyfloss until his heart gave out.

Powers and abilities
Abilities
Wouldn't like to speculate.
Weaknesses
She has slightly less intelligence than the average cocker spaniel.

Paraphernalia
Equipment
Whatever she keeps in her bedside cabinet. Best not to ask, really.
Transportation
Whatever Wanda happens to be driving.

Notes
Though her place of birth is never specified, Candyfloss appears to be from one of the southern states of the USA, judging by her speech patterns.

Trivia
Candyfloss habitually refers to Wanda as "Boo'ful", which is presumably the closest she can get to pronouncing "beautiful".
Candyfloss is a character in the Penthouse magazine comic strip Oh, Wicked Wanda!.
Links
Discover and Discuss
Community content is available under
CC-BY-SA
unless otherwise noted.