Calamity James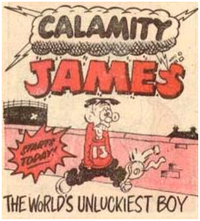 Base of operations
Beanotown
Characteristics
Unusual features
Buckteeth
Status
Occupation
Fate's plaything
Origin
Origin
Normal human birth
History
Calamity James is a character in the Beano comic. His first appearance came in issue 2311, dated 1st November 1986. His full-page strip replaced Little Plum and Biffo the Bear, whose strips had been reduced to half a page by that time. James, titled 'The World's Unluckiest Boy', is an unfortunate youth who suffers bad luck wherever he goes. He wears a red jumper with the number 13 on it, which may be the source of his bad luck. Four weeks after he was introduced, James's pet, Alexander Lemming made his first appearance. His hobby is plummeting. In 1988, the Little Squelchy Thingies made their debut in their strip and have regularly featured since. James hates black pudding but is often served it by his long-suffering mother, who once tried to sell him at an auction disguised as an old lamp.
Throughout its run, the strip has mostly been drawn by Tom Paterson, but in the 1980s it was sometimes ghosted by Bob Dewar and in 2004 several strips were contributed by Steve Bright. Also, early renditions of the character were produced by Henry Davies and John Geering, but their interpretations never appeared in the comic itself.
James's appearance changed around 1989. He originally had very small eyes and just two buckteeth, but around this time his eyes became bigger and he gained more buckteeth. Another change happened in 1993, when the Beano switched to full colour printing and the strip appeared in colour for the first time, while by 1997 it was being rendered on computer in shiny colours. The strip began to appear less frequently over the years, particularly in the early 2000s, due to Paterson's workload, which included first The Numskulls and later Minnie the Minx in the same comic.
Former Beano editor Euan Kerr is said to be very fond of James as he played a strong part in the creation of the character. However, Alan Digby, who replaced him as the Beano editor in 2006, was less keen on the character. Ironically, James appeared fairly often in the comic in late 2006, having seemingly disappeared in the early part of the year.
In early 2007 the Beano stopped publishing new strips and instead began running reprints of older strips. These reprints ran for a few weeks until issue 3375 (7th April 2007), after which James was dropped. He did make a comeback in the Beano's sister comic, BeanoMax, as Euan Kerr had become its editor, although when Alan Digby also became editor of BeanoMax in 2009 it appeared likely that the strip was going to be dropped from that publication as well. However, he made a surprising return to the weekly Beano in issue 3507 (31st October 2009), again as a reprint, since when he has been a regular.

Powers and abilities
Powers
None.
Abilities
None.
Strength level
Juvenile human male.
Weaknesses
Chronic bad luck.

Paraphernalia
Transportation
Mostly walks.
Weapons
None. Taking arms against a sea of troubles isn't James' style.
Links
Discover and Discuss
Community content is available under
CC-BY-SA
unless otherwise noted.