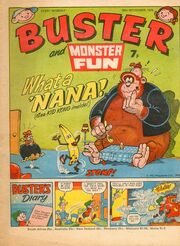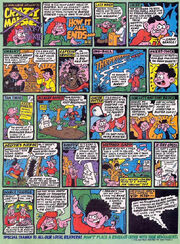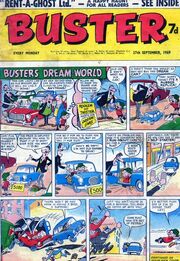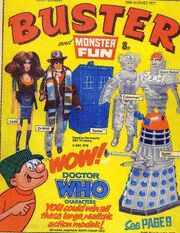 Buster was published by IPC from 28th May 1960 to 4th January 2000, and was the last of the company's traditional juvenile humour titles to be cancelled. Originally, it was comprised of a more or less even mix of adventure strips and humour strips, though by the mid 1970s the humour strips had come to dominate. The lead strip, Buster, Son of Andy Capp was about a boy who (as the title implies) was originally intended to be the son of long-running newspaper strip character Andy Capp, though the connection was soon dropped. The strip was later renamed Buster's Diary, and for a short time Buster's Dream World. During the course of its almost 40-year run, Buster also incorporated several other cancelled titles including Radio Fun, Film Fun, The Big One, Giggle, Jet, Cor!!, Monster Fun, Jackpot, School Fun, Nipper, Oink! and Whizzer and Chips.
Notable strips included Faceache, Kid Kong, The Toys of Doom, Von Hoffman's Invasion, Johnny Samson, Crabbe's Crusaders, Fishboy, Galaxus, the Thing from Outer Space, Thunderbolt the Avenger, Marney the Fox, Charlie Peace, Thunder Boult, Disappearing Trix, Crowjak, Lazy Bones, Joker, Terror TV, Chalky, Odd Ball, Sweet Tooth, Tom Thug, X-Ray Specs, Ivor Lott and Tony Broke, Junior Rotter, Ginger, Mummy's Boy, Bumpkin Billionaires, Tin Teacher, Boxatricks, Clever Dick, Pete's Pets, Bertie Bumpkin, Kid Gloves, The Leopard from Lime Street (written by Tom Tully), Laser Eraser, Teddy Scare, Seeker from Space, The War Children, The Sparrows Fight On, Martha's Monster Make-up, Bobby's Ghoul, The Runaways, Pete's Pocket Army, Gums, School Belle, Sweeny Toddler, Birdman and Chicken, The Wizard of Football, Draculass and Jeff Craig Detective by Ian Kennedy. Former Cor!! star Gus Gorilla hosted the regular feature Gus's Gags.
See also
Cor!! Buster Humour Special Vol 1 1
Community content is available under
CC-BY-SA
unless otherwise noted.