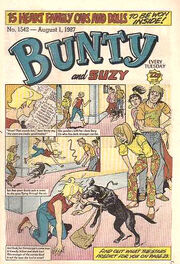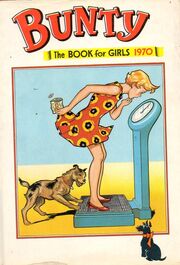 Bunty
was a long-running weekly girls' comic first published by
D.C. Thomson
on the 18th January 1958. A rather conservative title, it carried mostly rather traditional stories, with boarding school being a favourite setting. Strips featured included:
From 1988 Bunty acquired The Comp, about a mixed sex comprehensive school, which had previously run in the pages of Nikki. Bunty annuals were published from 1960. The title eventually first switched from weekly to monthly frequency and then finally folded in 2001 after 2, 249 issues (the last few of them monthly), though not before first acquiring Mandy and Judy, which was cancelled in 1991 and merged into Bunty.
For many years, the back page of Bunty would feature a cut-out paper doll with paper clothes, though this eventually gave way to pin-up posters. Intact copies of Bunty tend to be quite scarce because of this nowadays.
See also: Bunty Picture Story Library for Girls, Bunty Annual.
Gallery