Brute Mosely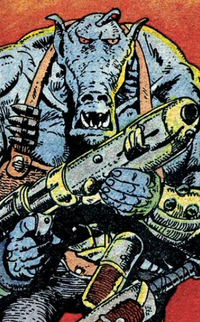 Relatives
Mrs Mosely (mother)
Characteristics
Status
Origin
Origin
Mutated by strontium-90
History
The big blue mutant was a member of the criminal gang led by Max Bubba, and assisted him in his attempt to destroy human history by going back in time to the Viking era and killing people. His murderous ways eventually caught up with him, but not before he had been complicit in the murder of time-displaced Wulf Sternhammer, earning him the undying enmity of Wulf's friend, Strontium Dog Johnny Alpha, with predictably fatal consequences. He was crushed in a rockfall, and abandoned by Bubba and Impetigo Jones as they tried to flee Alpha. Alpha later found Mosely crushed underneath the fallen rock and begging for help. Alpha ignored Mosely's pleas and left him to die. It's later revealed that he bled to death.

Powers and abilities
Abilities
Killing people.
Strength level
Superhuman.
Weaknesses
Rocks.

Paraphernalia
Transportation
Time machine; skimmer.
Weapons
Guns.

Notes
Brute Mosely may or may not be a descendant of the notorious British fascist and Nazi sympathiser Oswald Mosely.
Links
Discover and Discuss
Community content is available under
CC-BY-SA
unless otherwise noted.