Brother Gogol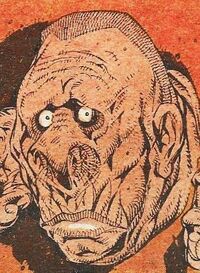 Characteristics
Unusual features
His nose
Status
Origin
Origin
Born half-human, half-alien
History
Brother Gogol is a character from the 2000 AD strip Nemesis the Warlock. He was one of Torquemada's bigoted Terminators, who were supposed to hate all non-human forms of life, and worked as an executioner. However, unbeknownst to Torquemada, Brother Gogol was a mandrake: half human, half alien. The alien freedom fighter Nemesis the Warlock used this information to pressure Brother Gogol into opening a dimension portal in the sacrificial fire in the temple of Terminus. This meant that when the aliens were thrown into the fire they would be teleported to safety. Brother Gogol was too afraid of the flames to use the portal himself, so he had to stay behind and face the wrath of Torquemada. He was put in a motor-pillory and driven through the tunnels of Termight so that all its pure citizens could gasp in disgust at his ugliness and treachery.

Paraphernalia
Transportation
Motor-pillory.

Notes
Brother Gogol is the sci-fi equivalent of the 'tragic mulatto'.
Links
Discover and Discuss
Community content is available under
CC-BY-SA
unless otherwise noted.