Brother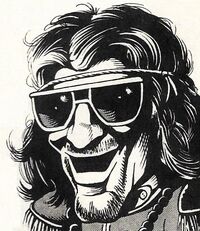 Characteristics
Unusual features
He's a computer
Status
Occupation
Ship's computer
Origin
History
Brother was the computer of the ship the V.C.s or 'vacuum cleaners' flew around the solar system in their quest to defeat the alien Geeks. His physical avatar was a puppet that looked like a jester, or Mr Punch. Then the ship flew into an ion storm and Brother's circuits went haywire, leaving him under the impression that he was a hippy and speaking in speech-bubbles wreathed with flowers. (His refusal to aid the V.C.s in "killing your fellow alien" isn't as daft as it sounds, because from a computer's point of view humans and Geeks alike were all alien fleshy weirdos.)
Brother's new pacifist persona nearly meant the end of the war for the squad, until rookie Steve Smith got friendly neighbourhood nutter Loon to impersonate another flower-powered drop-out and persuade Brother that war was hip and groovy, maaaaaan. The good news is that Brother decided to resume the war against the Geeks. The bad news is that he still thought he was a hippy, so Smith made him an avatar that looked like a missing member of Sergeant Pepper's Lonely Hearts Club Band. Despite the best efforts of commanding officer Jupe, Brother persisted in stunts such as trying to get the crew to chill out by watching old movies.
When he reported the Geeks' attack on Transatlantic City, which resulted in twenty million deaths, Brother's speech-bubble was surrounded by lots of tiny crosses (as in, the symbol of the Christian religion).

Powers and abilities
Abilities
Computing; running a starship (but not actually flying it, because that's Ringer's job).
Strength level
Extremely high (he's packed to the gunwales with space-age weapons).
Weaknesses
Thinks he's a hippy.

Paraphernalia
Equipment
Do the V.C.s count?
Transportation
Space warp capable of travelling hundreds of light years in one jump.
Weapons
Nova missiles, fusion cannon, proton cannon, laz-guns, needle lasers, etc. His avatar has also been shown killing Geeks with handheld guns.
Links
Discover and Discuss
Community content is available under
CC-BY-SA
unless otherwise noted.