Broder Kruger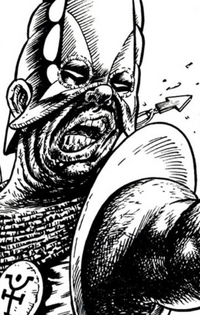 Characteristics
Unusual features
Ugly slob in a silly costume
Status
Origin
Origin
Normal human birth
History
Broder Kruger is a character from the 2000 AD strip Nemesis the Warlock. He was the Arch-Bigot of Termight who worked under Kassan and the Grand Dragon Mazarin, and he spoke with a very pronounced South African accent. After it was decided that a new group was needed to ostracise and hate, what with aliens now being accepted on the planet, Kruger was summoned by the Grand Dragon. After a short moment's thought, Kruger decided that freckled people should be the new deviants (look out, Nest!).
Later, after Torquemada had returned to power, Kruger was imprisoned alongside Kassan, and subsequently crushed to death.

Powers and abilities
Weaknesses
Dresses like a condom-themed superhero.

Paraphernalia
Equipment
Staff.
Links
Discover and Discuss
Community content is available under
CC-BY-SA
unless otherwise noted.