Broch Demon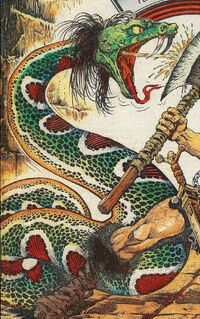 Characteristics
Status
Occupation
Devourer of souls
Origin
History
The Broch Demon is a character from the 2000 AD strip Sláine. It was a hideous shape-changing monster that lurked in the dungeon of a broch (prison tower) and emerged after sunset to suck the life force from the prisoners, leaving them immensely aged and, shortly afterwards, dead. Needless to say, Ukko had no idea of the broch's secret inhabitant when he bought the prison, on Sláine's behalf, from a man called Scenb, but perhaps he should have wondered why Scenb was so eager to sell.
Ukko and Sláine only discovered the demon when they heard a terrible scream ring out in the night and found, upon examining their prisoners, that they were all dead — including Sláine's friend, Bodb of the Black Axe, who would have been freed in the morning. The demon initially took the form of another of Sláine's friends, Blathnaid, but soon morphed into its true shape, which resembled a giant serpent.
The Broch Demon told Sláine that it had escaped from Hel into Tír na nÓg because of the Drune Lords who had corrupted the land by using the 'earth power' for evil purposes. Now that it needed a new host, Sláine would be ideal because the earth power flowed through him too. The demon wrapped him in its coils and prepared to begin the process.
Sláine, however, had other ideas. He struggled free, wrapped the demon up in chains and killed it with his axe — despite the fact that it morphed back into the form of his friend Blathnaid in a desperate attempt to win his clemency.

Powers and abilities
Powers
Sucking out people's souls; shape-changing.
Abilities
Spitting venom.
Strength level
Superhuman.
Weaknesses
Axes.
Links
Discover and Discuss
Community content is available under
CC-BY-SA
unless otherwise noted.