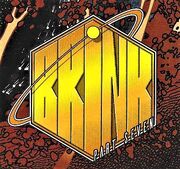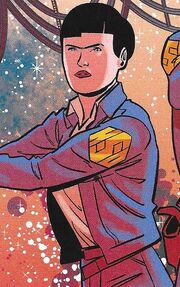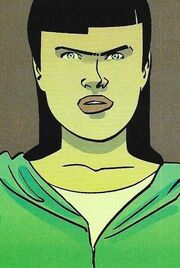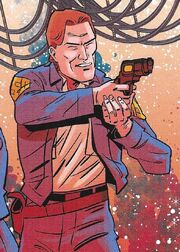 Brink
is a story by
Dan Abnett
and
INJ Culbard
about cops in space. The main characters in the first series are 
Bridget 'Bridge' Kurtis
(top) and
Carl 'Brink' Brinkmann
(below), who work as the futuristic equivalent of police officers.
Brink is set in the near future, when environmental degradation has made Earth unable to support human life. What is left of humanity lives in several huge, overcrowded, under-resourced space stations known as 'Habitats'. The police have to work hard to stop these pressure-cooker environments from descending into complete chaos, which would probably lead to the extinction of the human race. Their task is made harder by the rise of a new religious sect who believe that humanity is not alone in the cold depths of space, and who hear the whispered promises of a cosmic horror they call the Leper Heart.
There is an interesting interview with the creators of the series here.
Series
The first series, Brink, started in 2000 AD prog 1978 and concluded in prog 1992
The second series, Brink: Skeleton Life, started in 2000 AD prog 2023 and concluded in prog 2040
The third series, Brink: High Society, started in 2000 AD prog 2100 and concluded in prog 2118, with a double-length issue in prog 2116. The ending teased a fourth series.
Names of Habitats
Antioch
Galina (not yet completed)
Hesperides
Kiros
Ludmilla
Luna
Macrowheel
New Star
Odette
Phobos
Phoros
Salma/Selma
Sophia (a "lowlife mess")
Sydon
Xiang
Yuliya
Praise
"Great characters, great art, and the plot bouncing from one place to another really had me hooked." Earthlet Sam Wilkinson, 2000 AD prog 1994.
"This has been spectacular. The artwork fits it perfectly, I believe in the characters totally, and the premise is a very original reworking of some old ideas. Well executed." Earthlet Dave English, ditto.
"I'm so happy to see the next chapter getting a run. Fabulous art and it looks like Skeleton Life will be another winner." Earthlet Paddy Campbell, 2000 AD prog 2027.
"Brink is an intriguing story that's gripped me. Both the text and the art have done a superior job of illustrating the enormity and emptiness of the location." Earthlet Rory Walker, 2000 AD prog 2034.
"A truly compelling slow-burner, where story and art combine to extol the vastness of its location. A terrific series!" Earthlet NA Parry, 2000 AD prog 2061.
Community content is available under
CC-BY-SA
unless otherwise noted.