Brigand Doom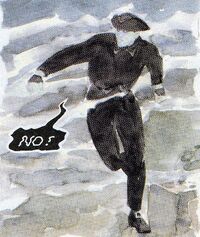 Current alias
Brigand Doom
Base of operations
The City
Characteristics
Unusual features
He's dead
Status
Origin
History
Brigand Doom is the eponymous protagonist of a strip in 2000 AD. He was a mysterious, seemingly undead crimefighter who patrolled the futuristic fascist dystopia known only as The City, dispensing justice while inexplicably dressed as Dick Turpin. Who he was and why he did this, we never found out, and Doom himself didn't seem to know, either. At one point, he encountered another, apparently similarly supernatural entity which referred to itself as the Magus and claimed to be both "the dark underbelly of the City" and "your (Doom's) father", but what precisely it meant by this was never really explained.
When last seen, Brigand Doom promised to return "Only when evil once more rears its head in The City." Investigator Nine's response was, "As soon as that?" We're still waiting for Doom to reappear, which leads one to the happy conclusion that the situation in The City has drastically improved since Doom's final story.

Powers and abilities
Powers
Spontaneous resurrection.
Abilities
Able to appear and disappear at will; good with computers.
Strength level
Superhuman.

Paraphernalia
Equipment
Black jacket; tricorn hat; rope and grappling hook.
Weapons
Flintlocks with a variety of supernatural attributes.

Notes
Brigand Doom appeared in 2000 AD progs 717 to 722, 764 to 773, 815 to 818, 897 to 899 and 932 to 936, as well as in the 2000 AD Sci-Fi Special issues #14 and #15 (the latter drawn by Greg Staples), the 2000 AD Winter Special 1994 and the 2000 AD Yearbook 1993 (all published between February 1991 and April 1995). At no point did we ever find out what he was or what he wanted. At this point, it seems unlikely we ever will.
Brigand Doom bore an uncanny resemblance to Alan Moore's V for Vendetta, in which a mysterious, anonymous and possibly insane man wages a ruthless campaign against a high-tech fascist dystopia while dressed in seventeenth-century garb.
Links
Discover and Discuss
Community content is available under
CC-BY-SA
unless otherwise noted.