The Brigadier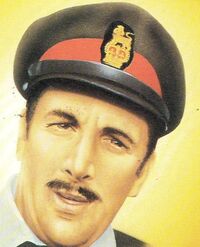 Real name
Alistair Gordon Lethbridge-Stewart
Current alias
The Brigadier
Relatives
Captain Archibald Hamish Lethbridge-Stewart (unspecified relative); Mario Verconti (grandmother's second cousin); Fiona Lethbridge-Stewart (ex-wife); Doris Lethbridge-Stewart (wife);
Kate Lethbridge-Stewart
(daughter); Gordon Lethbridge-Stewart (grandson); Brigadier Yembe Lethbridge-Stewart (great-grandson); Kadiatu Lethbridge-Stewart (great-great-granddaughter)
Characteristics
Status
Origin
Origin
Normal human birth
History
Brigadier Sir Alistair Gordon Lethbridge-Stewart was the original commanding officer of U.N.I.T. (the United Nations Intelligence Taskforce) and a longtime friend (and sometime employer) of the Time Lord known as the Doctor, though in the early days of their association they frequently clashed over matters of ideology. The Brigadier first encountered the Doctor in his second incarnation, but was chiefly associated with him in his third. They drifted apart when the Fourth Doctor ceased working for U.N.I.T., in either the mid 1970s or the early 1980s (don't ask).
The Brigadier and the Doctor later reconnected and apparently kept occasionally in touch for several decades until the Brigadier's eventual death from natural causes, by which time he was mostly retired and on his second marriage. The Brigadier's daughter, Kate Lethbridge-Stewart, now holds a senior position in U.N.I.T. and continues the family's association with the Doctor.

Powers and abilities
Abilities
Stiff upper lip.
Strength level
Of character.
Weaknesses
Whisky.

Paraphernalia
Equipment
Time/Space telegraph.
Transportation
Helicopter; staff car.
Weapons
Yes.

Notes
The Brigadier's first appearance in comics form came in the TV Comic story The Arkwood Experiments (TV Comic #944 to #949) but he has since made numerous appearances in titles including Doctor Who Magazine and the Doctor Who Annual.

Trivia
The Brigadier once also made a cameo appearance (accompanied by the ever loyal Sgt Benton) in an issue of Marvel's Uncanny X-Men title in the mid 1980s (see gallery).
The family motto of the Stewarts is Nemo me impune lacessit (a Latin phrase translated by the Doctor as 'No one attacks me with impunity').
Links
Discover and Discuss
Community content is available under
CC-BY-SA
unless otherwise noted.