Danny Budd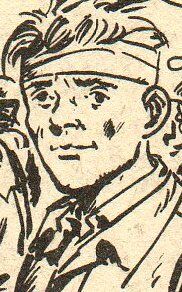 Relatives
Fred Bircher (Uncle); Ron "Piggy" Bircher (cousin)
Characteristics
Status
Origin
History
Danny Budd was a young orphan from Tynecastle (!) who, in 1942, escaped from his humdrum life delivering coal with his brutal Uncle Fred and achieved his ambition to become a Royal Marine (a "Bootneck") but found himself perpetually on the wrong side of his superior, Sergeant Striker, among others, who wrongly believed Danny to be a coward. In fact, Budd was brave to the point of occasionally being foolhardy, and his impetuous nature would frequently get him into perilous situations, yet somehow circumstances always conspired to make his acts of bravery go unnoticed and Budd himself was too modest to draw attention to them. Nonetheless, he gradually won the respect of his peers.

Powers and abilities
Abilities
Able to squeeze through small spaces with surprising ease.

Paraphernalia
Weapons
Thompson Sub-machine gun (given to him by his American Ranger friend, Moose).

Notes
Ian MacDonald was succeeded as writer on the series by first John Wagner (who, along with Pat Mills, also heavily rewrote MacDonald's scripts) and then Gerry Finley-Day. The strip ran until 12th November 1977, ending when Battle incorporated Action. Giralt provided the art throughout.
Links
Discover and Discuss
Community content is available under
CC-BY-SA
unless otherwise noted.