Blind Bran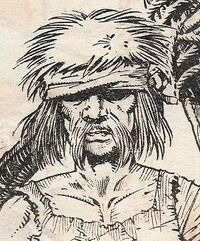 Characteristics
Status
Occupation
Flint miner (retired)
Origin
Origin
Normal human birth
History
Blind Bran is a character from the 2000 AD strip Sláine. He used to be a flint miner, but long hours of working in the darkness left him nearly blind. Then the weaponsmith Domnall opened a forge making metal weapons in Bran's village and nobody wanted flint weapons any more, so Bran had to become a beggar.
The Drune Lords had Bran arrested for begging and put him in a wickerman to be burnt to death as an offering to the god Crom-Cruach. In the wickerman he met Sláine MacRoth and Ukko, who already knew him, and Sláine's father Roth Bellyshaker. Bran's exhortations inspired the prisoners in the wickerman to fight for their freedom against the Drune's Skull Swords. They all escaped, despite the Lord Weird Slough Feg raising an army of the half-dead to stop them, and Bran hitched a ride back to his hovel on the back of a mammoth that Sláine had commandeered.
Sláine spent some time recuperating from a zombie bite in Bran's hovel. During that time it emerged that Domnall was making his metal weapons with the blood of mighty warriors. He kidnapped Sláine and Ukko, intending to kill them and use Sláine's blood, but they were rescued when Bran tunnelled up through the floor of Domnall's forge.
After Sláine had killed Domnall he rewarded Bran for his help, and compensated him for losing his job, by giving him all of the dead smith's gold. Bran would no longer have to survive on mouldy scraps grudgingly given to him by the villagers.

Powers and abilities
Abilities
Digging tunnels.
Strength level
Elderly human male.
Weaknesses
Partially sighted.

Paraphernalia
Equipment
Pick; lots of gold.
Transportation
Sláine's mammoth.
Links
Discover and Discuss
Community content is available under
CC-BY-SA
unless otherwise noted.