Blaze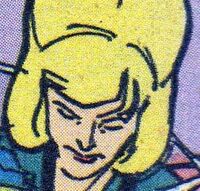 Relatives
Jennifer Ridgeway (clone mother);
Shockwave
(surrogate sister)
Characteristics
Status
Occupation
Would-be conqueror
Origin
Origin
Clone of Jennifer Ridgeway
History
Blaze is a character from the 2000 AD strip Zenith. She was a clone of Jennifer Ridgeway, the deceased superhero White Heat, created by Dr Michael Peyne. An amoral creature who considered herself above humanity, Blaze eventually evolved into one of the demonic Lloigor along with most of the surviving members of the superhero team Cloud 9, amongst others. They tried to destroy Earth and conquer the universe before being trapped in a pocket universe by Peter St John and Zenith.

Powers and abilities
Powers
Flight
Enhanced Durability
Pyrokinesis
Telepathy

Abilities
All those of the multipotent Lloigor.
Strength level
Superhuman.

Notes
Blaze did not or possibly could not speak, communicating with her 'sister' Shockwave exclusively by telepathy.
Links
Discover and Discuss
Community content is available under
CC-BY-SA
unless otherwise noted.