Overview
Blake's 7 was a science fiction TV series produced by the BBC for four series between 1978 and 1981, concerning the efforts of a group of criminal misfits to overthrow an evil fascist regime called the Terran Federation. Predictably, it spawned more than one spin-off in the world of comics.
The Team
Blake's 7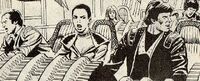 Origin
History
Blake, Avon, Vila, Jenna, Gan, Cally and the onboard ship's computer Zen were the original crew of the starship Liberator, a group of assorted criminals and misfits dedicated to the destruction of the tyrannical Terran Federation. Later, after Blake and Jenna's disappearance and the death of Gan, others joined the crew; Tarrant, Dayna and, after the death of Cally, the hired gun Soolin. Other members were Zen's replacement Slave (flight compuer of the freighter Scorpio) and the supercomputer ORAC.
The crew's rebellion eventually ended in characteristically downbeat style with them all apparently dying at the hands of the Federation, a logical if depressing outcome if you pit a bunch of no-hopers against a star-spanning totalitarian regime. However, this was played out on the TV show, and never referenced in the comics.

Paraphernalia
Equipment
Teleport
Transportation
Spaceships Liberator and Scorpio
Weapons
Guns
Links
Discover and Discuss
Community content is available under
CC-BY-SA
unless otherwise noted.