Roj Blake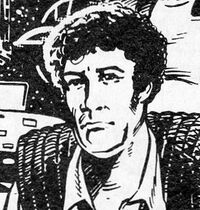 Characteristics
Origin
History
Roj Blake was a citizen of the Terran Federation who became a political dissident because he considered the ruling regime corrupt and oppressive. Framed for crimes he had not committed, he was sentenced to life imprisonment on the planet Cygnus Alpha, but along with his fellow prisoners Kerr Avon, Vila Restal, Olag Gan and Jenna Stannis he escaped and captured the drifting alien starship Liberator and its onboard master computer Zen. Joined by the telepath Cally, they became Blake's 7 and fought the forces of the Federation (and notably Blake's personal nemesis Space Commander Travis) for some years. Sadly, Blake became more and more fanatical as time went on and eventually lost sight of what he was fighting for, forming strategies which would potentially cost millions of innocent lives and going to ground on the planet Gauda Prime while his former crew fought on without him. Ultimately, his crusade cost him his life, shot dead by his friend Avon due to a terrible misunderstanding.

Paraphernalia
Equipment
Teleport bracelets

Notes
Blake was the original lead character of the BBC TV series Blake's 7, and appeared in the first two Blake's 7 Annuals published by World Distributors (in the third, he was replaced by Del Tarrant). He later resurfaced in Blake's 7 Winter Special Vol 1 2 published by Marvel UK in 1995.
Links
Discover and Discuss
Community content is available under
CC-BY-SA
unless otherwise noted.