Black Shuck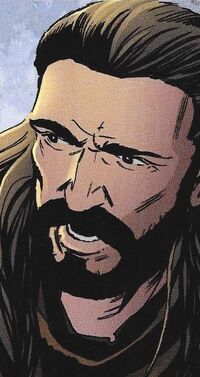 Current alias
Black Shuck
Relatives
Freydis (wife); twin sons; King Ivar (father, deceased); Hugin and Munin (half-brothers, deceased)
Base of operations
Scandinavia (9th century)
Characteristics
Unusual features
Is occasionally a monster
Status
Origin
Origin
He bit a shape-changing monster
History
The eponymous protagonist of the 2000 AD strip Black Shuck was born in Dunwich, East Anglia. He was the illegitimate son of a Viking raider, King Ivar, who raped his mother, and gained his name because the other people in Dunwich said that he had been sired by a black demon called a Scucca. As an adult Shuck was kidnapped by Vikings and taken to Scandinavia. En route he encountered and fought a hideous shape-changing monster which killed all the Vikings. During the course of the battle Shuck bit his foe (a neat reversal of the course of events usually found in monster transformation stories), and since then he changes into a big, black, hairy beast whenever he feels fear, pain or rage. His human intellect is unimpaired by this change.
When Black Shuck landed in Scandinavia in 813 AD, King Ivar named him as his heir. He then informed him that this meant that Black Shuck was now affected by a terrible curse inflicted on Ivar and all his kin by the undead troll king Øvredal, because Ivar had robbed Øvredal's grave of its gold. The curse had already claimed the lives of Hugin and Munin, Ivar's legitimate sons. Now the Viking fortification was attacked by ravening hordes of trolls every night.
Black Shuck defeated Øvredal and inherited the throne after Ivar was discreetly poisoned by his wife, Freydis, (presumably enraged by his reckless avarice and past infidelity), who blamed his death on the trolls. Black Shuck married Freydis and in 815 AD she gave birth to twin boys. They inherited their father's curse, but a bishop managed to trap the evil parts of their souls when their mother gave birth in a church. In the same year, Black Shuck formed an alliance with King Eadwald of East Anglia.

Powers and abilities
Powers
Therianthropy.
Abilities
Kicking ass and fighting trolls.
Strength level
Strong enough to rip the head off a horse with his bare hands/bear paws.
Weaknesses
Anglo-Viking warriors don't do 'weakness'.

Paraphernalia
Transportation
(Occasionally) a Viking longship.
Weapons
Big sword; crossbow.

Notes
Black Shuck's appearance is based on that of the actor Christian Bale. (Source: Thrill-Power Overload, extended edition.)

Trivia
An unrelated character also called Black Shuck appeared in the earlier 2000 AD strip London Falling.
Links
Discover and Discuss
Community content is available under
CC-BY-SA
unless otherwise noted.