Black Panther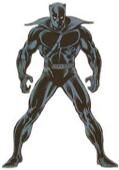 Current alias
Black Panther
Aliases
The Panther; Coal Tiger; Luke Charles
Characteristics
Origin
History
T'Challa, the Black Panther, is the hereditary ruler of the secretive and technologically advanced African nation of Wakanda, and a long standing member of the Avengers. He is also an ally of the Knights of Pendragon.

Powers and abilities
Abilities
Enhanced speed and agility, in part due to the ingestion of the mysterious "heart shaped herb".
Strength level
Peak human

Notes
Most, but not all, of the Panther's appearances in British comics have been reprints of American material.
Links
Discover and Discuss
Community content is available under
CC-BY-SA
unless otherwise noted.