Black Max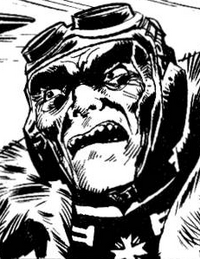 Real name
Baron Maximilien von Klorr
Relatives
Captain Constanta (cousin)
Characteristics
Status
Origin
History
Baron Maximilien von Klorr, better known as Black Max, is a character from the comic Thunder. He was a German flying ace in World War I, who trained two giant "Kingbats" — mutated by an ancient potion — to attack British aircraft. Max believed that he himself was not, in fact, human, but a descendant of the fabled Bat People. He was able to communicate telepathically with others like himself, including his grandfather, and was continually opposed by Lieutenant Tim Wilson of the Royal Flying Corps. (Decades later, Wilson's grandson Bill Wilson would contend with Dr Gratz the Demon Dwarf.)

Powers and abilities
Powers
Telepathy.
Abilities
Flying an aircraft.
Weaknesses
He's a bit batty.

Paraphernalia
Transportation
Fokker triplane.
Weapons
Bats.

Notes
Black Max debuted in Thunder but later appeared in Lion and in an edition of the Valiant Annual. In 2017, he returned in the Scream & Misty Halloween Special. He has since turned up in 2000 AD, in which he is revealed to be the cousin of the villainous Captain Constanta from Fiends of the Eastern Front.
Links
Discover and Discuss
Community content is available under
CC-BY-SA
unless otherwise noted.