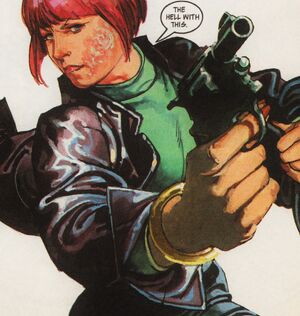 "The anticipation is now palpable amongst the crowds with the news that the presidential cavalcade has entered a sun-drenched mall. The cheering has swelled to deafening, parents lifting children onto their shoulders in the hope of catching a glimpse of the president — and his attempted assassination by Iraqi hitmen."
Black Light is a strip created by Dan Abnett, Steve White and John M. Burns, about "an elite unit appointed by the US President to investigate 'black ops' by rogue Government agencies and shut them down." It was published in 2000 AD progs 1001 to 1013, in 1996. Alan Craddock worked on eight episodes, and Steve Yeowell and Lee Sullivan drew four each.
The title refers to a nickname for ultraviolet light, which can be used to detect substances invisible under ordinary white light.
Community content is available under
CC-BY-SA
unless otherwise noted.