Biogs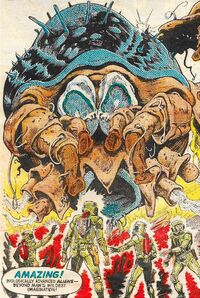 Base of operations
The planet Zircon
Characteristics
Unusual features
Look like giant mites
Origin
Place of birth
The planet Zircon
History
The Biogs are evil aliens from the 2000 AD strip Dan Dare. They were the first enemies encountered by the strip's eponymous protagonist after his transfer into 2000 AD. Resembling a cross between giant head lice and hot air balloons, they were a species of parasite-like aliens from the planet Zircon created by the Mother Biog. They used the deformed Shepherds, who originally dwelt on Zircon's moon, as their soldiers. What set the Biogs apart from other aliens was that all their houses, machines and tools were made from flesh: "The alien Biogs' base! — Where the buildings are alive! Grown from living tissue, with veins running between them!"
The ultimate aim of the Biogs was to set up a new home on Jupiter and use the Earth's population as fuel for their infrastructure: "They grow their houses and machines from living tissue — and they use... live fuel!" Their plan was thwarted by Dare's Martian pal Monday, who sacrificed his life to take out the Biog menace after Dare had killed the gigantic Mother Biog.

Powers and abilities
Powers
Flight; surviving in space; powerful stomach acids able to quickly cause their prey to decompose; telepathy; surviving in Jupiter's red spot.
Abilities
Transporting prisoners in their stomachs.
Weaknesses
Dan Dare is everyone's weakness.

Paraphernalia
Transportation
Biog battleships.
Weapons
Living Axes (wielded by the Shepherds, because Biogs don't have hands).

Notes
Biogs communicate with each other and the Shepherds by changing colour.
Tharg claims to have visited one of the Biogs' ship farms on Zircon and seen their spaceships growing from seed, a sight which he describes as "very pretty."

Trivia
Readers interested in aliens who make buildings that are alive should read Embassytown, a novel by China Miéville.
Links
Discover and Discuss
Community content is available under
CC-BY-SA
unless otherwise noted.