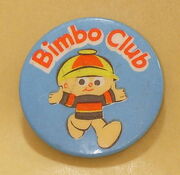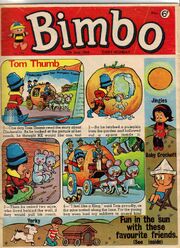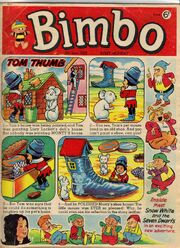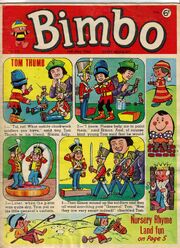 Bimbo
was the flagship 'tiny tots' nursery comic published by
D.C. Thomson
between 1961 and 1972. Printed on classier, glossier paper more along the lines of the summer specials from the same company, (and costing an olde-currency sixpence as a result!) the comic contained 20 pages of nicely-rendered kiddie-fare. The logo depicted reader-identification icon
Bimbo 
himself, (see main illustration), and the cover benefited from the sheer prestige of having
Dudley D Watkins
artwork in the shape of
Tom Thumb
. This strip contained much endearing fantasy imagery as the diminutive Tom interacted with mice and other small creatures, often using small props to create a novel effect.
Tom Thumb
 had appeared in the 
Beano
earlier, but not in full colour, as was the case here.
Other Bimbo strips were impeccably put out by Bob Dewar, Ron Spencer and Bill Ritchie. Ritchie produced all-new Baby Crockett strips for this comic, and they were approached quite differently to the Beezer variations, which were assembled concurrently. The main difference in this junior version was the insistence of full colour, and the total absence of word-balloons, as was customary throughout all the strips within, using captions along the bottom of the frames instead. Ritchie also turned out the equally appealling Pip the Penguin, sometimes appearing in black and white, with a photo of a real life curio inserted to inspire that week's story.
Another utterly charming contribution was Wendy in the Land of Nursery Rhymes, beautifully depicted by Ron Spencer: his style was deliberately altered to a more 'cutesy' approach here, much removed from his more familiar Little Plum etchings. Pussy Willow was another Spencer addition, with an almost Disneyesque grandeur imbued into the highly-skilled character depictions.
Further delightful offerings turned up in the shape of the Jolly Mixtures, a highly stylised, brilliantly designed serving by Dewar. The mid-Sixties yielded a centrespread attraction in the shape of Little Snow White (artist unknown) and although any variation on this Grimm fairy tale was going to have a tough time following the Disney version, it nevertheless was an engrossing fairytale offering. Another very appealing offering came courtesy of Old MacDonald's Farm (again, artist unknown), rendered in a very attractive style that surely must have been appreciated by many young readers.
Bimbo folded in 1972, leaving behind many warm reading memories for many young readers. The Bimbo Book however continued until into the Eighties. D.C. Thomson perhaps felt that the comic had run its natural course by 1972, and in that same year launched the similarly themed and targeted Little Star.
Some Bimbo strips and features
Community content is available under
CC-BY-SA
unless otherwise noted.