Billy Whizz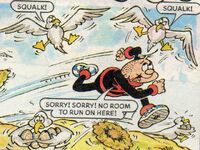 Current alias
Billy Whizz
Relatives
Alfie (brother)
Base of operations
Beanotown
Characteristics
Status
Origin
Origin
Normal human birth
History
Billy Whizz is a character in the Beano comic. He first appeared in issue 1165, dated 16th May 1964, replacing The Country Cuzzins. He was originally drawn by Malcolm Judge, who also drew The Numskulls and The Badd Lads in the Beezer, and later Ball Boy in the same comic.
Billy is a boy who can run at exceptionally high speeds. He also has a younger brother, Alfie, who has made regular appearances in the strip. He does not share Billy's exceptional speed, but is said to be fast for his age. Billy used to live in Whizztown rather than Beanotown like the majority of other Beano characters, but post-1980s strips place him in Beanotown.
Billy's appearance changed relatively little during Judge's spell as artist (almost 25 years), although in the late 1970s he began to wear trousers instead of shorts. One notable feature of Judge's artwork was the wide variety of visual devices used to depict Billy's whizzing, including spinning legs, dust trails and multiple copies of Billy in a panel, amongst other methods.
Judge remained Billy's artist until his death in January 1989. The strip was briefly taken over by Barrie Appleby before Steve Horrocks drew it into 1990, when Beano newcomer David Parkins took over. Parkins gave the character something of an overhaul by making the effects of Billy's whizzing more destructive to his environment than previously, thus adding him to a long tradition of comics characters whose defining characteristic causes chaos in the well-ordered world of adulthood and law-abiding suburbia. Later on, Parkins also kitted Billy out in a striking new tracksuit. The tracksuit first appeared in Beano issue 2599, dated 9th May 1992, and in this strip Billy ran so fast that he was mistaken for a lightning storm.
When the Beano changed to full colour printing, Vic Neill took over as artist, partly due to David Parkins' workload, though Trevor Metcalfe continued as occasional understudy into 1994. Neill changed the character further, with his familiar two long hairs being changed into a thunderbolt in mid-1994. He continued to draw Billy until his death in January 2000, when Graeme Hall became artist. His version of Billy was fairly similar to Neill's, though the strip's overall style changed somewhat.
Around this time, Billy's popularity took a sharp decline and by 2003 the Beano's editorial staff seriously considered dropping the strip for good. It was eventually decided to keep it, but Hall stopped as artist in March 2003 with Wayne Thompson taking over the following month. The change of artist revitalised the strip and the new artwork style, based on that of Malcolm Judge's original but with a modern twist, brought new life to the character and the stories.
By 2005 Thompson's increasing workload led to the return of Trevor Metcalfe, now drawing the strip on computer using a Wacom tablet, initially as an understudy to Thompson. However, he later took over the strip full-time and continued to draw Billy until 2007, when he left D.C. Thomson. The comic ran reprints of early, pre-tracksuit David Parkins stories for the rest of the year. In 2008 the comic started to reprint Neill and Metcalfe strips as well as Parkins', but in the Beano's 70th birthday issue (2nd August 2008), a brand new strip was drawn by Barrie Appleby. The comic mainly reprinted Neill's strips for the next year, with a single Graeme Hall reprint in October 2009. Two weeks later, the current artist Nick Brennan took over as the Beano started printing new strips again.
A coarsely satirical version of this strip, entitled Billy Sulphate, appeared in the early 1990s in VIZ cash-in clone ZIT — a remarkably unfunny piece by common consensus. So, no surprises there...

Powers and abilities
Powers
Superspeed.
Abilities
Running errands.
Strength level
Juvenile human male with superspeed.
Weaknesses
Somewhat clumsy.

Paraphernalia
Transportation
Whizzing.
Links
Discover and Discuss
Community content is available under
CC-BY-SA
unless otherwise noted.