Billy Joe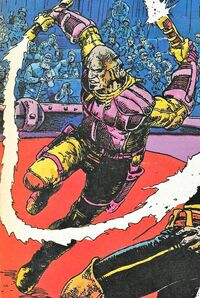 Base of operations
The planet Paprika
Characteristics
Unusual features
Two faces
Status
Origin
Origin
Mutated by strontium-90
Place of death
J. J. Jubal's circus, Paprika
First appearance
Last appearance
History
Billy Joe is a character in the Starlord strip Strontium Dog. He lived on Paprika, the planet next to Coriander in the Spice System, and had a fifty thousand credit bounty on his head. Corrupt Paprikan police officers goaded Johnny Alpha and his partner Wulf Sternhammer into going after Billy Joe in the hope that he would kill them, so that they wouldn't transport a perp called Spiro (who had bribed the police) off-planet. Johnny and Wulf found Billy Joe extorting money from the citizens of a small town called Humility, who were too frightened to resist him. He used his laser lash to rain down blow after searing blow on Johnny until his heart stopped, and told Wulf to remove his corpse.
However, Johnny Alpha had in fact stopped his own heart to fake his death. He regained his health (with the help of a friendly Gronk), joined a travelling circus, trained hard with a laser lash and challenged Billy Joe to a rematch with a poster reading: "Johnny Alpha: Greatest Las-Whipper of All Time: 10,000 Credits TO ANY MAN WHO CAN BEAT HIM!"
Billy Joe took the bait, but found to his horror that this time he was seriously outclassed by his opponent. When the Janus-faced criminal tried to run away Johnny ended up confronting him on top of a cage containing a Smiling Chukwalla, a hideous alien beastie that was one of the circus's attractions. Billy Joe pleaded for mercy but Johnny reminded him that he himself (or they themselves) had shown none. The Strontium Dog cut through the cage's roof with his laser lash, and Billy Joe provided the Smiling Chukwalla with a welcome meal.

Powers and abilities
Abilities
Has been the champion las-whipper in the Spice System for sixteen years; can skin a man alive with his laser whips.
Strength level
Probably superhuman.
Weaknesses
Is constantly arguing with himself.

Paraphernalia
Transportation
Hopper.
Weapons
Laser lash.

Notes
Billy Joe is first mentioned in Starlord #12, but doesn't actually appear until Starlord #13.
Billy Joe has two faces, one on each side of his head. Each face has its own personality. The face with a moustache is 'Joe' (whom Johnny describes as "wilder than Billy"), and the face with a beard is 'Billy'.
Links
Discover and Discuss
Community content is available under
CC-BY-SA
unless otherwise noted.