Billy Candy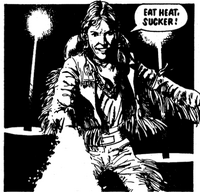 Characteristics
Origin
History
Billy Candy is the protagonist of the 2000 AD one-prog story Candy and the Catchman, published in prog 491. He was a young teen sharpshooter who had grown tired of living under the rule of the Council of Immortals and decided to take out their youth-stealing servant The Catchman.
He stopped the Catchman from preying upon a group of children and after a brief tussle he stole the cap to the Catchman's gas tank (which he needed to breathe to survive) and led him on a wild goose chase before his gas reserves finally ran out, causing the Catchman to collapse. Smugly Candy stood over his kill, only for the Catchman to lash out at him with his dying breath. Candy's body was rapidly aged by the claws impaled in his back.
The next night Candy approached a group of children telling them to go to their homes. He now had the body of a ninety-year-old man.

Powers and abilities
Abilities
Very fast and a keen sharpshooter.
Weaknesses
Arrogance.

Paraphernalia
Equipment
Cap to the Catchman's gas tank.
Weapons
Twin pistols.
Links
Discover and Discuss
Community content is available under
CC-BY-SA
unless otherwise noted.