Big Dave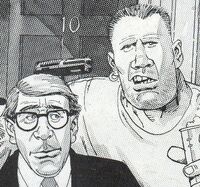 Aliases
Manchester's Hardest Man
Affiliation
Manchester United
Base of operations
Manchester, Great Britain
Characteristics
Status
Origin
Place of birth
Manchester
History
Big Dave is the hardest man in Manchester, if not the world — and if you reckon different, you slag, you wanna keep that to yerself if you know what's good for you! Dave and his mate Terry Waite stopped Saddam Hussein and his evil alien allies from Sirius from turning the whole world into poofs with their deadly Love Gun after Prime Minister John Major asked for Dave 'specially 'cos no-one else was hard enough. Later, Dave got friendly with two right Royal sorts, and later still Dave led a bus full of disabled children to World Cup victory against a German team led by Adolf Hitler. Good ol' Dave — no-one gets the better of England's finest when he's around!

Powers and abilities
Powers
He's bloody hard.
Strength level
Oh, yes.
Weaknesses
Not the sharpest tool in the box.

Paraphernalia
Equipment
Two savage dogs, Zoltan and Kickboxer.

Notes
Big Dave was one of the most controversial strips 2000 AD ever ran, in particular the story which depicted the Princess of Wales and the Duchess of York as a pair of randy drunks.
The 1994 2000 AD Yearbook featured a story called Young Dave, which told of an event in Dave's childhood which helped form his later character. Dave is shown being bullied by "coloured lads" who steal his dinner and repeatedly knocked out by his father, who trains fighting pit-bulls by taking them on bare handed in a pit in the cellar of the working men's club, while his mother does nothing all day but watch soap operas. Dave finally turns after he is cheated out of a PE prize at school by his nemesis, Pansy the Swot, an obvious spoof of the Beano character Walter the Softy.
Big Dave's artists have included Anthony Williams.

Trivia
When Dave was hired by John Major, the payment he demanded for defeating Saddam was a lifetime supply of designer shell suits, a three week holiday in Tenerife (with an indoor bog) and a bright orange 'H' reg Ford Capri with a smart flame effect down the sides. You're worth every penny, my son!
Links
Discover and Discuss
Community content is available under
CC-BY-SA
unless otherwise noted.