Big Cynthia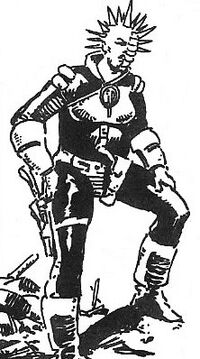 Current alias
Big Cynthia
Characteristics
Unusual features
Carapaced face
Status
Origin
Origin
Mutated by strontium-90
History
Big Cynthia, a character from the 2000 AD strip Strontium Dog, was a large, muscular mutant woman whose face was partially obscured by what appeared to be some form of carapace. She was one of the Strontium Dogs, alongside Armstrong Jones (her partner) and Slabhead, who attempted to capture Adolf Hitler from 1945 Berlin. She was last seen becoming caught in a time-trap far into the future, repeating the same two seconds for eternity.

Powers and abilities
Abilities
Proficient bounty hunter.
Strength level
Greater than normal human.

Paraphernalia
Transportation
Time machine.
Weapons
Blaster; electronux.

Notes
'Cynthia', meaning 'from Mt Cynthus', is an epithet of the Greek goddess Artemis, who was said to have been born there. She was the goddess of the hunt and is frequently depicted with a bow and arrows.
Links
Discover and Discuss
Community content is available under
CC-BY-SA
unless otherwise noted.