Biffa Bacon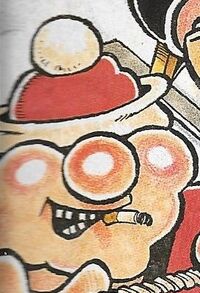 Real name
Bifferidge Bacon
Current alias
Biffa Bacon
Relatives
Mutha (Vermintrude Bacon) and Fatha (Billy 'Basher' Bacon)
Characteristics
History
Biffa Bacon is basically a dimwitted thug from Tyneside with no redeeming features, though he is sometimes rendered slightly sympathetic by the fact that he is routinely subjected to cruel and pointless abuse by his sadistic parents. Nah, come to think of it, forget that last part: he deserves all he gets.

Powers and abilities
Strength level
Normal human strength of a hooligan of his age and size who avoids exercise wherever possible.
Weaknesses
Very, very stupid.

Paraphernalia
Equipment
Cigarettes.

Notes
Biffa is an obvious spoof of Bully Beef from the Dandy.
Links
Discover and Discuss
Community content is available under
CC-BY-SA
unless otherwise noted.