Beryl the Peril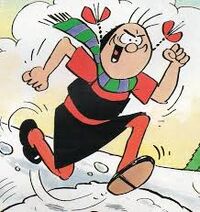 Current alias
Beryl the Peril
Characteristics
Status
Origin
Origin
Normal human birth
History
Effectively another Minnie the Minx, Beryl (who habitually wears red and black, like fellow D.C. Thomson nuisances Dennis the Menace, Minnie, The Smasher and Roger the Dodger) is basically just a little girl who is continually getting into trouble. Not intrinsically bad, she is nonetheless extremely naughty.

Powers and abilities
Abilities
Spreading chaos and anarchy wherever she goes.
Strength level
Juvenile human female.

Notes
When creator David Law left the strip, it was taken over by Bob McGrath and later John Dallas, then Robert Nixon. In 1999 she was heavily revamped by Karl Dixon, but in 2006 artist Steve Bright restored her original appearance.
In 1958, Beryl was awarded her own annual, a rare honour afforded to only a few other D.C. Thomson characters, including Dennis the Menace and Black Bob. This reflects Beryl's rising popularity at the time.
Following the cancellations of Topper and its successor Beezer & Topper, Beryl transferred to the pages of the Dandy and remained a semi-regular feature until that title's cancellation.
Some of Beryl's later appearances were reprints.
Links
Discover and Discuss
Community content is available under
CC-BY-SA
unless otherwise noted.