Bertie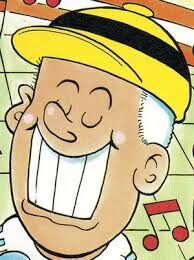 Real name
Bertie Blenkinsop
Characteristics
Status
Origin
Origin
Normal human birth
History
Bertie Blenkinsop is one of Walter the Softy's two best friends, the other being Spotty Perkins. He is always shown wearing a schoolboy's cap and has curly blonde hair (sometimes white). In one story, he took Walter's glasses so he could look just like him.
Bertie's attachment to his schoolboy cap may indicate the high value he places on academic and intellectual prowess, or it may show that the cap was inherited from a dead relative (his father? his brother?) whom Bertie misses a lot. Either way, there is clearly more to Bertie than meets the eye, and his desire to imitate Walter could show that he is not comfortable in his own skin.

Powers and abilities
Abilities
Playing with dolls; arranging flowers; etc.
Strength level
Juvenile human male.
Weaknesses
Weedy little milksop who couldn't punch his way out of a wet paper bag.

Paraphernalia
Equipment
Schoolboy cap.
Weapons
Not his style.
Links
Discover and Discuss
Community content is available under
CC-BY-SA
unless otherwise noted.