Benny Summerfield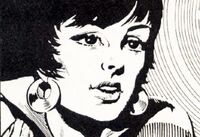 Real name
Bernice Surprise Summerfield
Current alias
Benny Summerfield
Aliases
Professor Summerfield
Relatives
Isaac Summerfield (father, deceased); Claire Summerfield (mother, deceased); Jason Kane (ex-husband, deceased); Peter Summerfield (son)
Characteristics
Status
Origin
History
Professor Bernice Summerfield (the 'Professor' bit may or may not be earned) is an archaeologist from the late 26th/early 27th century who travelled for some years with the Time Lord known as The Doctor, frequently also in the company of his companion Ace. Benny's early life was troubled: she grew up in and out of foster care after her parents were killed by the Daleks, was sent to military academy and absconded to live rough for a time. Drafted into Spacefleet, she escaped and, using faked qualifications, bluffed her way into an archaeological dig at the age of 22, setting the course for her future life. She met the Doctor on the planet Heaven and later met her future husband, Jason Kane, while travelling with him (though they soon parted).

Powers and abilities
Abilities
Aikido; fixing broken motorspeeders; painting.
Strength level
Young human female who gets regular light exercise (exploring planets with the Doctor).
Weaknesses
Benny can never resist a drink.

Paraphernalia
Equipment
Portable history unit; laser cutter; excavation probe; ion bonder; lightweight foldable plastisteel crowbar; bottle of rather fine Aldebaran brandy.
Transportation
The TARDIS.

Notes
Originally created for the Doctor Who: New Adventures novels published by Virgin books, Benny appeared as a regular character in the comic strip in Doctor Who Magazine in the early 1990s (mostly drawn by Colin Andrew, Lee Sullivan or Adrian Salmon), and has since appeared in her own spin-off novels and in various audio adventures from Big Finish Productions (voiced by Lisa Bowerman).

Trivia
Bernice may have been the inspiration for the later character River Song.
Bernice had a cat named Wolsey, inherited from the Doctor.
Bernice once had a brief fling with Sherlock Holmes' companion Dr Watson.
Links
Discover and Discuss
Community content is available under
CC-BY-SA
unless otherwise noted.