Ben and Polly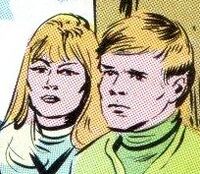 Real name
Ben Jackson and Polly Wright
Current alias
Ben and Polly
Aliases
Paul (Polly's alias when she was in the 16th century)
Characteristics
Status
Origin
Origin
Normal human births
History
Good-hearted cockney Ben Jackson was an able seaman in the Royal Navy when he met the upper-crust Polly at London's Inferno nightclub in 1966, and the pair inadvertently became caught up in the affairs of the time traveller known as The Doctor. Joining the crew of the TARDIS quite by accident, they travelled with him (and later also with new companion Jamie McCrimmon) for some time before equally accidentally being returned home on the same day that they'd originally left. According to Sarah Jane Smith in The Sarah Jane Adventures, they later married and ran an orphanage in India.

Powers and abilities
Abilities
Making coffee (Polly); very strong swimmer (Ben).
Strength level
Young humans who get regular strenuous exercise.

Paraphernalia
Transportation
The TARDIS.

Notes
Ben and Polly (who seemingly went everywhere together) were, as played by Michael Craze and Anneke Wills, among the shorter lived companions of the Doctor on TV, but have appeared surprisingly often in comics. Appearances include the 1968 Doctor Who Annual, several stories in Doctor Who Magazine and cameos in Doctor Who titles from Titan Comics and IDW Comics.
Polly once worked out a way of killing Cybermen with nail varnish remover.

Trivia
Polly's last name, Wright, was never given on screen. It has been used extensively in other media though, and was apparently in the rehearsal script for her introductory TV story. Fandom once believed her name was Lopez, but this seems to have been due to mishearing a line of dialogue in the TV story The Faceless Ones.
Links
Discover and Discuss
Community content is available under
CC-BY-SA
unless otherwise noted.