Bella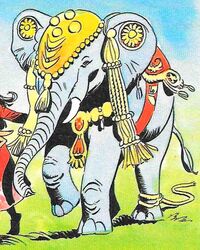 Base of operations
Bonnybanks School
Characteristics
Unusual features
She's an elephant
Status
History
Bella was an elephant who belonged to Princess Sarita, a minor Indian princess who became a pupil at the presumably rather exclusive Bonnybanks School for Girls. Princess Sarita brought Bella to England with her to attend the school, and the obsequious school authorities, no doubt wanting to curry favour (as well as currying everything else from then on) rather bafflingly allowed the pampered princess to keep her there, despite the fact that they'd probably have frowned on Gladys from form three keeping a gerbil in the tuck box room.
Bella duly became the school's treasured mascot, and the focus of several adventures, including an attempted kidnapping. She had a placid temperament and a large appetite, and was quick to protect her beloved mistress and her friends from any real or perceived danger — on one memorable occasion she submerged a crooked talent agent in a bathtub full of porridge because he spoke to one of Princess Sarita's pals in an unpleasant tone of voice. The Bonnybanks pupils took it in turns to muck out her stable.

Powers and abilities
Abilities
Her trumpeting inspires the Bonnybanks girls to achieve victory in every sports competition against rival schools. She also had a brief period working in advertising when the girls were under the erroneous impression that they needed to earn a large sum of money to save the school from closing down.
Strength level
Normal pachyderm strength of an elephant who gets minimal regular exercise.
Weaknesses
Buns.

Paraphernalia
Equipment
Ornate ceremonial regalia, including headdress and tusk-rings.
Weapons
None. Bella is not belligerent.
Links
Discover and Discuss
Community content is available under
CC-BY-SA
unless otherwise noted.