Bebrick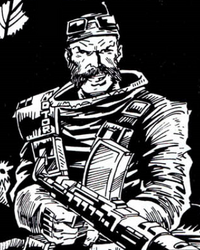 Characteristics
Status
History
Bebrick was a human soldier in same squad as Mad Tommy, led by the then-human Kano. Bebrick proved to be a brutal and efficient soldier who, much to Kano's horror, killed the Krool with glee. After Kano held two Krool prisoner, Bebrick argued with his commander, believing that the Krool should be killed on sight. Kano said that they needed to treat the Krool humanely, much to Bebrick's displeasure. Later that night the two prisoners escaped and returned with a larger squad. Bebrick realised their absence and went to scout around for them. After his search was unsuccessful a hail of bullets poured into him, killing him instantly. The resulting battle caused the death of his entire squad apart from Tommy and Kano (with Kano subsequently turning into the grotesque sewn-together creature known to Danny Franks). After escaping the Krool, Kano adopted Bebrick's attitude towards the enemy and started the rogue Bad Company.

Powers and abilities
Strength level
Peak human male.

Paraphernalia
Equipment
Armour.
Weapons
Machine gun.
Links
Discover and Discuss
Community content is available under
CC-BY-SA
unless otherwise noted.