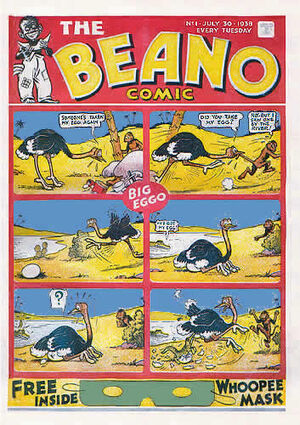 The History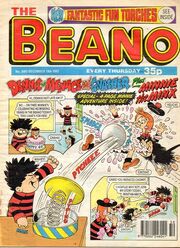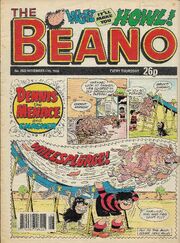 The Beano was until recently the second longest running comic title published by D.C Thomson & Co, Ltd (the longest running was The Dandy) and is undoubtedly their most successful foray into the industry. Launched on 30th July 1938, it has run weekly ever since, aside from during the Second World War when paper shortages meant that Beano and Dandy were published on alternate weeks. Among the iconic characters featured in the title over the years are Dennis the Menace, The Bash Street Kids, Roger the Dodger, Minnie the Minx, Billy Whizz, Grandpa and Lord Snooty. Almost all of the Beano's most successful strips feature children as the protagonists, most of them wild and unruly, which is possibly why Beano's sales have over the decades almost constantly exceeded those of the generally more conservative and less anarchic Dandy. Because of The Dandy's switch to fortnightly frequency in 2007, The Beano is now the World Record holder as the longest running weekly comic. Since the Dandy's cancellation, it is now the last of the traditional British juvenile humour comics.
See Also
Comic strips
1930s
1940s
1950s
1960s
1970s
1980s
1990s
2000s
2010s
Adventure stories
See Also
Official website
Community content is available under
CC-BY-SA
unless otherwise noted.